We at Louter Creek Hunting Poodles are striving to breed back the Standard Poodles with good drive to retrieve in and out of the water. Standard Poodles are very intelligent, easily trained and are proven to be efficient retrievers.

Our dogs are trained slow and steady to achieve the desired results which is an outstanding, reliable waterfowl retriever. Training begins at an early age of seven weeks by retrieving stuffed toys and bird wings. Basic obedience commands such as heel, sit & here are very important to teach a puppy. It is also essential to introduce them to water at an early age, and to different bodies of water as they get older.

Most important is to practice different drills, such as the depth perception drill which helps them use their eyes for marking (watching the fall of the bird).

It takes a lot of time and dedication to train your poodle yourself, but in the end it is well worth it, as there is a real bond between the hunter and life long hunting companion.

*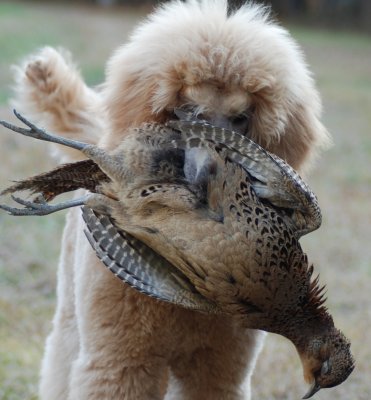 Dec. 1, 2012 "Grace's" First Pheasant at 5 months.
2012 Pheasant Hunt with "Whiskey" & "Reba Mcentire"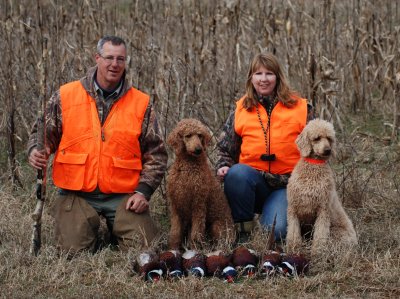 2011 Pheasant Shoot at Beaver Pond Farm
2010 Dove shoot...
Limited out both Saturday afternoon and hunted another field on Sunday morning.
Best dove shoot in recent years!
2009 Pheasant Shoot at Beaver Pond Farm
"Layla" retrieves a crippled pheasant!
"Reba" did a good job flushing and
retrieving from thick cover and
thickets!
Our three girls showing off!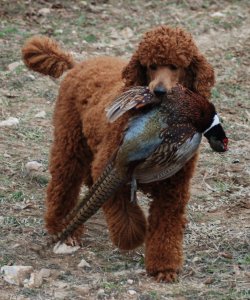 "Sky" retrieves her first pheasant
Opening day 2008, Cooper waits
his turn to retrieve more ducks.
"Reba keeping an eye on the sky"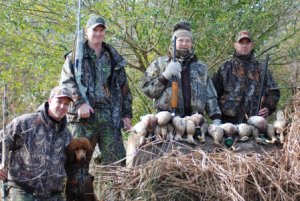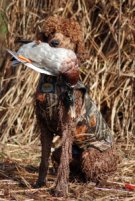 11/17/07 Opening day of Duck Season is finally here and what
a great time we had in North West Georgia.
Cooper had his work cut out for him as we had four hunters.
CONSERVE GAME BY USING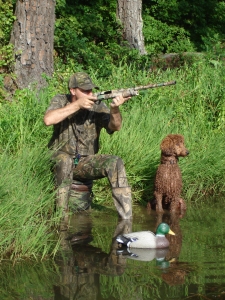 A TRAINED RETRIEVER !

SOUTHERN STANDARDS RED CREOLE WC
"Cooper" earned a pass at the Music City HRC in TN
Cooper earned his WC (Working Certificate) at the CCPC All Poodle Hunt Test in NC 9-16-07
Photo Credit John Carelli WC/ WCX all Poodle hunt test on 9-16-07
---
Layla retrieving a duck at 5 months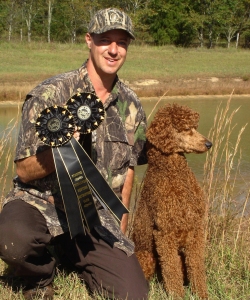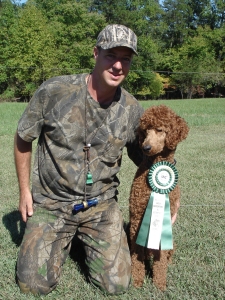 Cooper earnes his SHR title at the Midlands
HRC Hunt test Oct. 07
Cooper gets a pass at the Big Elkin HRC
hunt test in NC

| | |
| --- | --- |
| Reba retrieving a Chuckar at 8 wks. | |
| | Reba retieving a Mallard at 8 wks. |
| | |
| --- | --- |
| | |
| Cooper retrieving a duck | Cooper coming to shore with a duck |
Reba's First Pheasant Hunt at 6 months. old

Here are some books that were great tools for us in the beginning:
The Finished Dog by Charles Jurney
Marshes & Meadows by James Spencer
The 10 Minute Retriever by John Dahl

Louter Creek Hunting Poodles
© Copyright 2007 and beyond All Rights Reserve
No part of the website maybe taken without the express
consent of it's owner or webmaster.
All photographs are copyrighted by the photographers.

Best viewed with IE 5.0 or higher, 800 x 600 resolution