---
"Whiskey"
SHR Louter Creek's She's My Little Whiskey Girl JH WC
Sire: HRCH UH MHR Southern Standards Red Creole MH Dam: HRCH UH Webster's Red High Heels SH
Introducing our newest edition at Louter Creek...this little red head is out of the FIRST Standard Poodle litter in history with both Sire & Dam having earned the Hunting Retriever Champion titles. She has big shoes to fill and is doing extremely well with her obedience and retriever training at just 4 months old. She has been exposed to live birds at an early age and always enjoys a chase as pictured above with a crippled chukar!

"Layla"
UH HRCH Webster's Red High Heels SH

Layla is our beautiful girl that loves to retrieve. She often looks like a gracefull deer
jumping high over the tall grass as she looks for her ducks.
She sports the "Hunting Class Clip" (aka historically correct clip).
Layla is totally amateur trained and handled by mom and is currently
competing in AKC/UKC hunt tests.
She does great obedience work, very steady to the line, and is working on
double retrieves and handling drills. She is truly Majestic!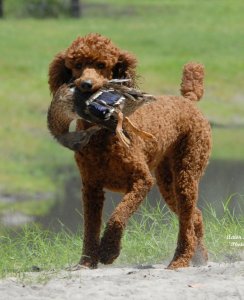 "REBA"

SHR REDLINES RADIANT RED REBA JH WC
At just 2 years old "Reba Mcentire" is maturing nicely and developing into a dependable hunting retriever. She marks exceptionally well, has tremendous prey drive, and has a no quit attitude. Looking forward to 2009 waterfowl season!

CHIC# 65710


"Sky"

LOUTER CREEK'S RED WINE N' ROSES


"Sky" is our adventurous and outgoing little red head that loves the game of DUCKS!
She has naturally been retrieving ducks since she was 10 weeks old,
and shows us too that she can be a waterfowl retriever!
Sky is a quick learner, and sometimes our most stubborn little redhead.
She has started her field training so she will be ready for hunt tests in Spring '09!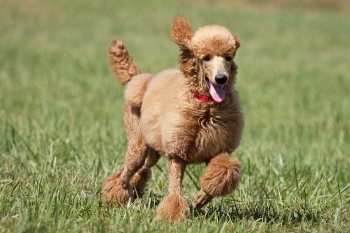 ---

Louter Creek Hunting Poodles
© Copyright 2007 and beyond All Rights Reserve
No part of the website maybe taken without the express
consent of it's owner or webmaster.
All photographs are copyrighted by the photographers.

This site is designed and maintained by JD Designs
Best viewed with IE 5.0 or higher, 800 x 600 resolution
Animated Poodle graphic by Kitty Roach